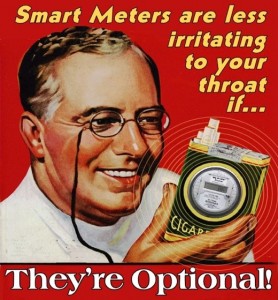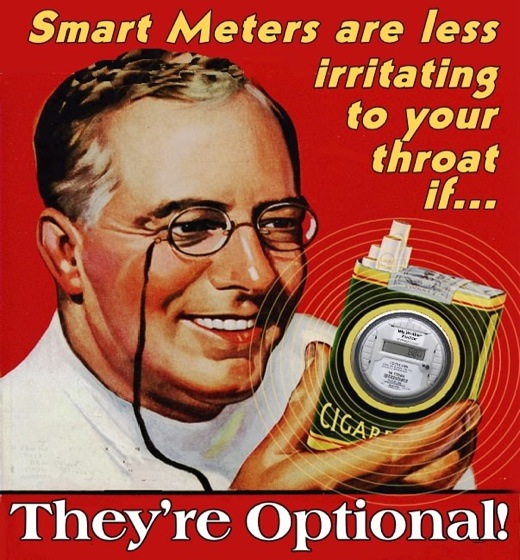 Image above: Mashup by Juan Wilson of Lucky Strike ad featuring a recommendation by 20,679 physicians attesting that Luckies are less irritating because they are "toasted" providing protection against irritation and cough.. from (http://news.wustl.edu/news/Pages/20334.aspx).
(If you know of any corrections or additions to make to this list, email info@electrosmogprevention.org)
SMART METERS ARE OPTIONAL* IN THE FOLLOWING STATES OR LOCATIONS:
Maine* due to Maine PUC order (read more at Smart Meter Safety) ME – radio-off smart meter $20 & $10.50/mo or electromechanical $40 & $12
Fees being challenged legally in Maine – click here  for article and listen to audio of Oral Arguments before Supreme Court of Maine (30 min)
Michigan [ BREAKING NEWS The Michigan Opt Out ruling:
http://www.w4ar.com/MPSC_decision_June_29_20112_ALLOW_OPT_OUT.pdf ]; [http://novi.patch.com/articles/public-service-agency-report-recommends-smart-meter-opt-out-option]
California* (SDG&E, SCE, PG&E) due to recent CPUC orders (read more here and here); $75 and $10 month/$10 and $5 month (CARE Program) fees being challenged on basis of discrimination laws Center for Accessible Technology ADA and Smart Meters Brief (6/29/12); CEP Smart Meters ADA Opening Brief (7/5/12).
Update 5/20/13: Some alleged harassment of opt-out customers reported in SDG&E territory – people with dogs in fenced yards being told they must not have them in yard 24/7 so access to meter is available 24/7 by SDG&E. One customer told electricity will be shut off if his dogs are found in the yard and spot-checks will be conducted at all hours of the day and night, any day of the week. Also, SDG&E not showing up for appointments to read meters, customers taking whole day off from work to have analog meters read by SDG&E, then meter readers don't show up and reschedule. SDG&E refusing to allow self-reading of meters, even with 30 year previous history of allowing it. Some SCE customers report they are having a hard time obtaining the opt-out even though it was ordered by the CPUC judge last May, 2012. Opt-out proceedings in second phase, to consider costs, discrimination laws as they apply to fees, and community opt-outs. SDG&E and SCE wish to double the fees. Opt-out proceedings appear "stalled". Judge Amy Yip-Kikugawa, the administrative law judge has been silent on these topics, nearing a year on the discrimination aspect of charging medically ill and disabled people to be "allowed" not to be irradiated. PG&E has indicated it is willing to socialize the costs (spread them out amongst the customer base). CEP continues to call for a ban on smart meters but meanwhile requests socializing cost as a means to allow everyone to have an opt-out who wants one. CEP also calling for "zone of safety" for those with medical reasons  (removing meters within a zone TBD by customer, around one's home).
Nevada*  The Nevada Public Utility Commission has approved an opt-out (late Jan, 2012). NV Energy says it will charge a one-time fee of $52.86 and a monthly charge of $8.82 to opt out. Consumers won't be able to keep their existing analog device. The company will provide new, sealed analog meters, which CEP considers "suspicious", as the 1% of consumers with older version electromechanical analog meters will be forced to give them up.
Vermont (free) due to VT state legislature bill S. 214 signed into law by governor (read more about it here – Vermont Legislature Eliminates Smart Meter Opt-Out Fee)
Kaua'i, Hawaii (free) due to recently settled federal lawsuit against energy co-op KIUC – read more here.     [Unconfirmed: KIUC has agreed to provide this for one litigant, and possibly, for others.]

Ashland, OR (free) city council voted to establish a free opt-out, rejecting city-owned Ashland Electric Dept's request for fees. (Read more here.)
Portland*, OR  – $254 & $51/mo
Lafayette, Louisiana (temporarily free) city council voted to establish free opt-out (till Nov. 2012) for city-owned Lafayette Utilities System – read more here
*for a fee
(to alert us to additional opt-out states or locations email us at info@electrosmogprevention.org and place Opt-out Location in the subject line)
———————————–
SMART METER OPPOSITION ACTIONS ACROSS THE UNITED STATES
AS OF MAY 29, 2012, list with details provided by Center for Safer Wireless, VA
other lists at Smart Meter Activism Sites – CA and USA
———————————–
PENDING FREE SMART METER OPT-OUT LEGISLATION

State Legislature of Georgia, USA – read more here at StopSmartMetersGeorgia
Virginia: Jan. 2012: Senator Garret has introduced SB797 which prohibits electric utility companies from installing a smart meter on a customer's premises or requiring a customer to use any advanced meter unless the customer has requested it. More info at www.centerforsaferwireless.org/.
The bill: http://lis.virginia.gov/cgi-bin/legp604.exe?131+sum+SB797
———————————–
PENDING PUC'S CONSIDERING SMART METER OPT-OUTS
Texas PUC – read more here and go to Ban Texas Smart Meters for more info
Florida PUC –
———————————–
Naperville*, IL –  WARNING FROM NAPERVILLE RESIDENT : $68.35 & 24.75/mo for a "dangerous, powerline-communications" opt-out
Smart Meters are NOT optional in Naperville.  We are NOT allowed to keep our analog meters which is why we re-filed our federal lawsuit and still fighting the city.  The only "option" is a different kind of smart meter which is "wired" to the power lines and is therefore still creating harm, sickness and are an invasion of privacy (still collects and stores all private data).
We have no options here except to have a smart meter forced on us or get arrested.
 The City is using the term "opt-out" to mislead and conceal what is really going on from the public.
———————————-
CALIFORNIA LOCAL ORDINANCES AGAINST SMART METERS
57 California Smart Meter Local Ordinances Banning or Criminalizing Smart Meter Installations
———————————–
SMART METER ACTIVISM IN USA AND INTERNATIONAL
For a growing list of state-by-state organizations fighting to obtain opt-outs and bans, click here
———————————–
CA AND FEDERAL LAWS SHOWING SMART METERS AND FEES ILLEGAL, TO ASSIST YOU
For a list of CA and federal laws that show mandatory smart meters and opt-out fees are discriminatory and illegal, click here
(to alert us to additional opt-out laws that we may post herein email us at info@electrosmogprevention.org and place Smart Meter Laws in the subject line)