(4/19/12) Today, the CPUC Commissioners unanimously passed both SDG&E and SCE opt-out proposals for the utilities' embattled RF-radiation emitting smart meters. This will impact Southern California customers of San Diego Gas & Electric and Southern California Edison, two of the state's three largest independently operated utilities. Residential customers of both utilities may now officially request that the smart meters be removed from their residences. Edison indicates 28,000 have indicated an interest in opting out, and SDG&E has gone from an estimate of around a hundred to 3,000, to date. We think if the public understood the health, safety, privacy, or security issues better, and there was not a fee, close to 100% would opt-out.
SDG&E: 1-800-411-7343, info@sdge.com , www.sdge.com
SCE (Edison): 1-800-810-2369 ; Contact page at  www.sce.com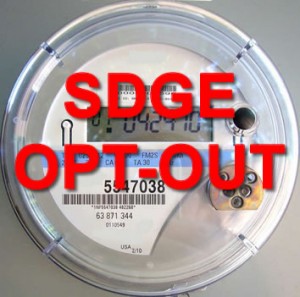 The SDG&E opt-out will allow customers to pay to opt-out to an analog meter that does not produce RF microwave radiation emissions. The cost will be $75 to change out the meter (may be spread over 3 months, by request) and $10 a month for the meter reader and other related costs; CARE (low income) customers will pay $10 for the changeout and $5 a month extra. The SCE opt-out will similarly allow its customers to opt-out, but only to the last type of meter they had before the smart meter, which may, in some cases, not be an analog meter, but a digital, electronic meter that may also produce RF microwave radiation emissions. There will be a second phase to both proceedings in June, which will consider whether to allow entire local communities and customers in multi-family dwellings to opt-out as a group, and to possibly revise costs. Lawsuits involving the fees are anticipated, as California Public Utilities Code Section 453 forbids charging extra fees related to safety and services (see below).
See SDG&E Opt-out Next Steps (4/19/12) and  SCE Opt-out Next Steps (4/19/12) for customer info on what this will mean, in the exact words of the CPUC Administrative Law Judge.
CEP's position is that this is an incomplete, interim plan that will provide some relief, but does not address exposures from neighboring meters, or that a zone of safety should be allowed to be established around one's home, for those who request it. CEP's position is that there should be no customer fees for the opt-out and that SDG&E and its investors should cover all costs; that commercial meters should be included in the opt-out; all banks of meters replaced with analogs, and that ultimately, the wireless and all RF-emitting meters should be banned and removed, replaced with safe analog meters. The full text of CEP's position is found at http://www.scribd.com/doc/87895726/CEP-Comments-SDG-E-Opt-out-Proposal-by-CPUC
Today's CPUC announcement:
FOR IMMEDIATE RELEASE PRESS RELEASE Media Contact: Terrie Prosper, 415.703.1366, news@cpuc.ca.gov Docket #: A.11-07-020
A.11-03-015
CPUC APPROVES ANALOG METER OPTIONS FOR EDISON AND SDG&E CUSTOMERS WHO DO NOT WISH TO HAVE
A WIRELESS SMART METER
SAN FRANCISCO, April 19, 2012 – The California Public Utilities Commission (CPUC) today modified Southern California Edison's (SCE) and San Diego Gas & Electric's advanced metering programs to include an option for those residential customers who do not wish to have a wireless Smart Meter installed at their location.
Edison customers choosing to decline an electric Smart Meter may retain the meter currently installed at their location or receive the meter form (i.e., an analog meter or a non-analog, non-smart digital meter) that had been at their location prior to the installation of a wireless electric Smart Meter.
SDG&E customers who do not want a wireless Smart Meter installed at their location can choose to have an analog electric and/or gas meter.
Customers participating in the opt-out option will be assessed an initial fee of $75 and a monthly charge of $10 thereafter. Customers enrolled in the CPUC's low income program (California Alternate Rates for Energy (CARE)) electing to opt-out will be assessed an initial fee of $10 and a monthly charge of $5. The initial fee and monthly charge approved today are interim to allow residential customers to begin selecting the opt-out option immediately. The costs are subject to adjustment upon conclusion of a second phase of this proceeding where issues concerning the actual costs associated with offering an analog opt-out option will be addressed.
Said CPUC President Michael R. Peevey, "As we move toward a more advanced electricity grid, Smart Meters will offer customers real benefits. However, if a customer does not want to have a Smart Meter, our decision today gives them that option."
The September 21, 2011, Assigned Commissioner's Ruling directing utilities to establish a delay list is no longer in effect and all customers on a delay list will be transitioned to a wireless Smart Meter unless they elect to participate in their utility's opt-out option.
The proposal voted on for SCE is available at http://docs.cpuc.ca.gov/EFILE/PD/161688.pdf. The proposal voted on for SDG&E is available at http://docs.cpuc.ca.gov/word_pdf/AGENDA_DECISION/164057.pdf.
To read a summary of the plans and more info on this proceeding, go to SMART METER Opt-out Vote Thurs. 4/19/12
Please note: all comments related to CEP's recommendations to the judge (p. 16) refer to Center for Electrosmog Prevention, a La Mesa-based nonprofit that is a formal Party to this proceeding, representing utility customers. "More at SDG&E Opt-Out Proposal Comments filed 4/3/12″ http://www.electrosmogprevention.org/stop-ca-smart-meter-news/sdge-opt-out-proposal-comments-filed-4312/ and other related info at www.electrosmogprevention.org.
—————————————–
from CEP Comments on March 15, 2012, PD (p.6)
X. ALL EXTRA FEES AND COSTS ARE ILLEGAL, PREJUDICIAL,PREFERENTIAL, DISADVANTAGE, DISCRIMINATE AND BLOCK ACCESS
All costs proposed by Judge Yip-Kikugawa are illegal under California Public Utilities Code Section 453, which subjects all customers and those with medical conditions to prejudice and disadvantage, requiring different rates and charges, giving preferential treatment to those with higher incomes.(a) No public utility shall, as to rates, charges, service,facilities, or in any other respect, make or grant any preference or advantage to any corporation or person or subject any corporation or  person to any prejudice or disadvantage.(b) No public utility shall prejudice, disadvantage, or require different rates or deposit amounts from a person because of ancestry,medical condition, marital status or change in marital status,occupation, or any characteristic listed or defined in Section 11135of the Government Code…(c) No public utility shall establish or maintain any unreasonable difference as to rates, charges, service, facilities, or in anyother respect, either as between localities or as between classes of service. (California Public Utilities Code Section 453)These costs and fees discriminate against utility customers as these costs are adisincentive to obtain an analog meter, which may be necessary for safety and security,guaranteed by the California Public Utilities Code, the CA and US Constitutions, and may be considered international human rights violationsas indicated above, especially as analogs are intended to the be standard, per federal energy guidelines.
from CEP Comments on March 15, 2012, PD (p. 12-14):
XXI.  DENIAL OF SCWSSM REQUEST FOR CA HEALTH DEPARTMENT REVIEW
CEP supports the SCWSSM motion to ask the California (CA) Department of Public Health to participate in this proceeding and finds the denial very troubling,counter to CA Public Utilities Code, which guarantees and requires customer and utility worker safety. CPUC is not ahealth agency, nor are the utilities, and as such, cannot determine whether these devices arecumulatively nor individually safein the manner in which they are being utilized, particularly since environmental and safety testing was waived by CPUC for these devices, and in the face of tens of thousands of complaints to CPUC on health and safety grounds, which have beenignored. This is particularly troubling as no FCC RF guideline addresses the entire populationincluding those most fragile in our society, and the smart meter exposure is virtually continuous24/7, whereas FCC guidelines were made for brief durations for a large, healthy man.
XXII.CALIFORNIA'S OVERALL ENERGY POLICY
Interpretation of California's Energy Policy must not be construed to interfere with theduty of the CPUC to protect customers, nor remove customer, citizen, or property rights,including those relating to safety and security.
XXIII.SMART GRID BENEFITS
So-called "smart gridbenefits"are purely theoretical in nature. The smartgrid is morefragile, more intrusive, more unsafe, and less reliable than any previous electrical grid, accordingto many experts. There is noevidence to show that there are benefits to customers. Teachingcustomers how to conserve is superiorto any forced conservation plan, supported by past projects such as the recent successful conservationprogram for water in Southern California.Smart grid benefits are fabrications, notsupported by any data or studies. Customers never askedfor these meters, the program was developed by CPUC and utilities in California. Theevidenceshows that only a tiny percent ever use computers to access their usage. Current usagedataavailable on the SDG&E website is only available the day after use,so it is not likely to providesavings in any timely manner that couldn't be better and more cost effectively achieved throughconservation education.
XXIV.CONFLICTS OF INTEREST AND SECURITY ISSUES
The safety and security of Californians is at stake. CEP requests that all CPUC judges,commissioners, advisors, and staff who have previously worked for utility companies in any capacity or who are not US citizens recuse themselves from making decisions on or participating in these proceedings in any way, based on conflicts of interest and the necessity to provide safety and security for California (and American) citizens. CEP requests that an outside mutually acceptable ethics agency be appointed to oversee this process. CEP requests a public list be provided of all CPUC commissioners, advisors, and staff who have previously been employed bythe wireless industry, utility companies or telecom companies,or worked for them in any capacity, and those who are not US citizens, or have other conflicts of interest.CEP requests that all of the above be considered and added to the opt-out proposal, to best protect and provide California's utility customers from safety and security issues, as much-needed relief. CEP requests that all smart meters and wireless infrastructure be removed rapidly from California's utility infrastructure, and that any and all replacements, such as fiber optic,undergo extensive public hearings, independent safety testing, and development before implementation. CEP requests that all decisions made be with safety and security as the CPUC's primary considerations
——————————————————————-
Media coverage and articles on the opt-out vote:
SDG&E:
CPUC: SDG&E MUST LET CUSTOMERS"OPT OUT" FROM SMART METERS (East County Magazine)
Smart meter Opt-out Options in CA  (KPBS)
SCE: